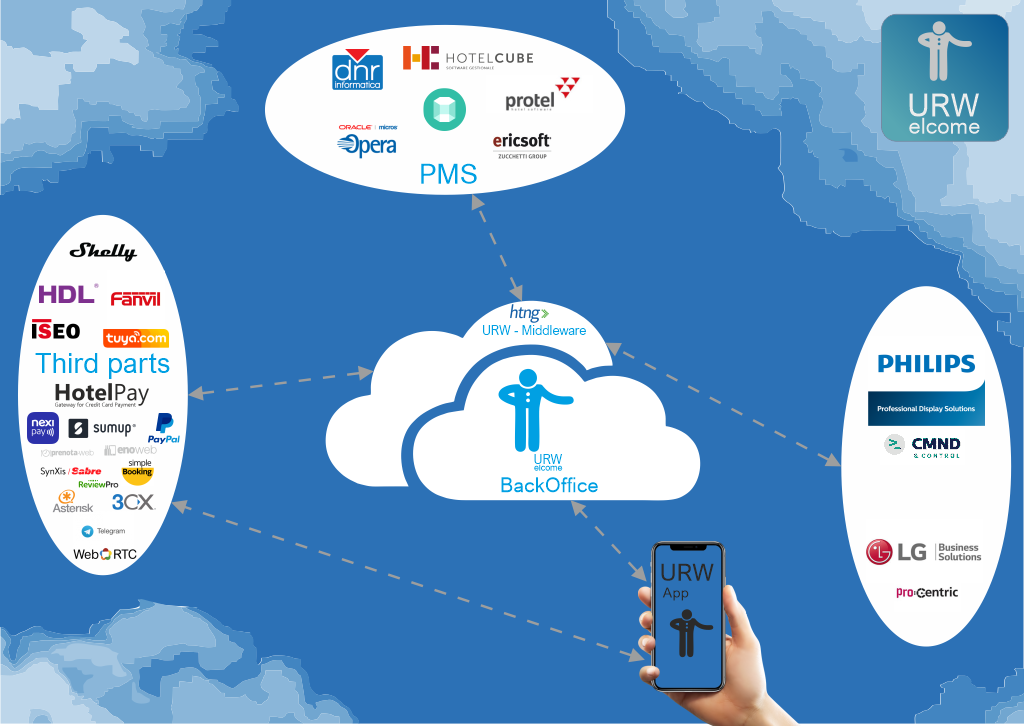 Developed with the latest technologies on the market, the URW app represents a real evolution in the tourism sector, placing itself as the main and essential tool between the end customer and the PMS / CRM / Communication system.
The name URW identifies the pronounced acronym of (U) You (R) Are (W) Welcome, which is the typical phrase that welcomes the customer.
Always and even more in the last period dictated by the COVID emergency, most PMS have implemented some features to automate the check-in and check-out processes in order to reduce the gatherings at the reception.
Many of them are trivially calls to responsive mobile pages and in rare cases apps adapted and depersonalized to access only the aforementioned features.
URW is a real App with the name of the Location, downloadable on the apple and android stores, which, in addition to containing and dynamically managing the information contents of the structure through a control panel, interfaces thanks to web services with most of the PMS present  on the market, transforming the App into a centralized container of functions and tools available to the customer and all modular and enabled or disabled from the control panel.
From the Backoffice Dashboard, you can push the info on the Digital Signage too with a simple click.
Some of the features are those of using an external booking engine (e.g. Synexi, Simple Booking, etc), Checking in and Checkout interfaced with various PMS (Protel, Opera, Hotelcube, GAE, etcc) using tools for customer satisfaction (  Ex: ReviewPro), chat, call or video call directly from the app the concierge, view the menus of the day or the wine list, possibility to open the doors of the rooms with the mobile phone, send push messages to customers for service communications or promotions,  a calendar of events that are notified to the customer during the holiday period, the possibility of accessing some content only if the customer has booked and is at home thanks to georeferencing, the possibility of viewing some content on the TV in the room (e.g. the pre-payment), paying  checkout online, and much more.
General Information
Meravigliosa, moderna e pulita landing page per descriverti la struttura con foto e descrizioni di servizi.
Photo Gallery
Gestione di più Gallerie Fotografiche e descrizioni dei contenuti.
Booking Engine
Integrazione con soluzioni esterne di prenotazione on line
Request Form
Form di richiesta per escursioni private, transfer ed altro.
Messaggi Push
Possibilità di inviare messaggi push sui vari dispositivi differenziando i destinatari per gruppi o singolarmente.
Automazione Porte
Gestione Domotica per apertura porta camera, garage
Telefono
Possibilità di interfacciamento al centralino telefonico per chiamate dirette ai reparti (Es: Bar, Concierge,etc..) O può diventare un interno della camera durante il periodo di permanenza
Menù
Visualizzazione dei menù a la carte, o lista vini, snack in formato PDF con gestione lingua o collegamento dinamico al gestionale per il menù giornaliero
Chat
Sistema di messagistica integrata per chattare con il concierge o la portineria
Check-In
Interfacciamento diretto ai PMS per effettuare il Pre-Checkin
Check-Out
Preconto Camera con pagamento on line
Utilty
Funzionalità integrate e certificate tra cui Emulazione telecomando TV, chromecast e tanto altro ancora
Middleware
Interfaccia Cloud per far dialogare i PMS con gli Hospitality TV della Philips e della LG
App per iOS
Pubblicazione dell'App per iOS di Apple con il nome della struttura sull'Apple Store
App per Android
Pubblicazione dell'App Android con il nome della struttura sul Play Store